In March 2002, during the ICT Symposium YU INFO 2002, Ericsson donated computer and multimedia teaching material to the Elementary School "Sutjeska" in the scope of the Gender Equality Project "ICT for Schools". School has only first four elementary grades, with 18 pupils. School children have lessons "in combination", which means that the first and the third grade are having lessons together, and also the second and the fourth grade in the other shift. Two teachers are conducting the whole education process. It was the first computer and ICT experience both for the teachers and the children.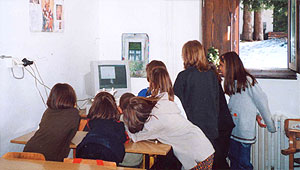 One year later, NGO "Equal Opportunities" visited again the small school in Kopaonik. During the year, teacher Violeta reported regularly their progress and expressed the happiness with the positive change that the computer brought to their way of work, and even everyday life.
The use of computer made possible the innovation of the teaching process: alphabet was easier to learn with animated elementary reading book with letter 'A' that was talking and singing… With material on audio CD it was much easier to select the song that was planned for the lesson, instead of endless winding/rewinding of audio tapes. Children started to use programs for drawing and filled the walls with nice and imaginative drawings of their new friend – the Computer.
Teacher Violeta modestly said that one printer would help them to improve even more with the possibility to print questions and exercises. Ericsson supported again the Project "ICT for Schools" and donated the printer, with great pleasure that this initiative has so visible positive result.